Nuclear submarine storage site shortlist agreed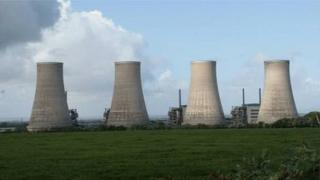 A final shortlist has been confirmed of possible locations to store radioactive waste from redundant Royal Navy nuclear submarines.
They are Capenhurst, Cheshire; Sellafield, West Cumbria; Aldermaston and Burghfield, Berkshire; and Chapelcross, Dumfriesshire.
All five locations were on a Ministry of Defence provisional shortlist revealed earlier this year.
Public meetings will be held from next month until February 2015 in each area.
Defence Minister Phillip Dunne said analysis had not presented any grounds for discounting any of the sites on the provisional list.
Ministers are planning that waste from nuclear-powered submarines which have left service would be stored at one of the locations until "some time after 2040" when the UK's deep level underground waste dump is available.
In a statement, Mr Dunne said that "anticipated public opinion" would be taken into account in deciding the final location.
Scottish Environment Secretary Richard Lochhead said Scotland "must not be turned into a dumping ground for MoD nuclear waste."
He added: "The Scottish government will be continuing to make the case that waste arising from the MoD submarine dismantling projects in Rosyth and Devonport should be stored elsewhere and the MoD consultation document identifies other potential storage locations, including MoD sites."