Cause of Livingston man David Reilly's fatal crash remains unclear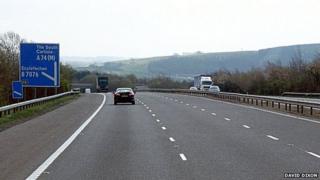 A sheriff has found that a Livingston man killed in a crash near Ecclefechan died of neck and chest injuries.
David Reilly, 66, died in April last year after his pickup truck towing a caravan struck the central reservation and was then hit by a lorry.
He was travelling from Wales to West Lothian when the accident happened in the early hours of the morning.
A sheriff said he could reach no "firm conclusion" why his vehicle had left the third lane of the A74(M) motorway.
A fatal accident inquiry in Dumfries heard Mr Reilly described as an experienced, careful and responsible driver.
It was told there seemed no explanation as to why he had swerved into the central reservation with both the pick-up and caravan overturning and sliding along the motorway.
They came to rest in the first and middle lanes and were then separated at the impact of the lorry which also overturned.
'Monotonous' road
In his findings, Sheriff Alistair Carmichael said that no blame could be attached to the driver of the lorry.
He also found there were no defects in any system of working but the question remained as to why Mr Reilly's vehicle contacted the central reservation in the first place.
He added that a police officer had described this stretch of road as "monotonous" and one that could test a driver's concentration.
However, he went on to say that the evidence had shown that Mr Reilly was experienced in long-distance driving and had already had two breaks on this trip.
Another possibility was that something happened that made him take some evasive action - perhaps an animal on the road.
The sheriff added: "Regrettably I am unable to come to any firm conclusion as to why Mr Reilly's vehicle left the third lane of the motorway."