RSPB launches cross-border hen harrier protection project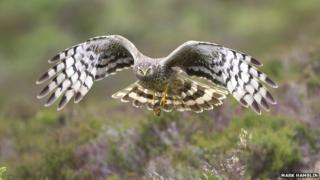 The RSPB has launched a cross-border five-year programme to protect the future of an endangered bird of prey, the hen harrier.
Most of the UK breeding population of hen harriers are in Scotland.
Between 2004 and 2010, Scotland's hen harrier population declined by 20%.
The programme aims to work constructively with landowners and the shooting community as well as focus on protected breeding areas in Scotland and northern England.
The European-funded Hen Harrier LIFE+ Project is the first joint Scottish-English initiative for the species.
It has designated seven Special Protection Areas (SPAs) for breeding the birds in southern and eastern Scotland and northern England.
The new programme will involve community engagement as well as direct conservation.
'Dire straits'
In 2010, 505 of the 662 breeding hen harrier pairs in the UK were in Scotland.
Most of the hen harriers' UK breeding population is found on Orkney, the Hebrides and parts of the western mainland.
Formerly a familiar bird in Britain's uplands, by 1900 persecution by game preservers and skin and egg collectors pushed hen harriers to extinction as a breeding species in Britain.
The birds continue to face threats. In June 2014 two orphaned hen harrier chicks were hand-reared by wildlife experts after the female bird was illegally shot in East Ayrshire.
Project manager Blanaid Denman said: "Hen harriers are in dire straits. Numbers are declining dramatically and urgent action is needed, which is why this European Union-funded project is both welcome and timely.
"Working together with volunteers and other organisations, we'll have more eyes and ears on the hills than ever before, using satellite tagging, winter roost monitoring and nest protection to deter persecution, identify the important areas for these birds and highlight where they're most at risk."