Ex-Queen of the South player Ryan McGuffie sentenced over assault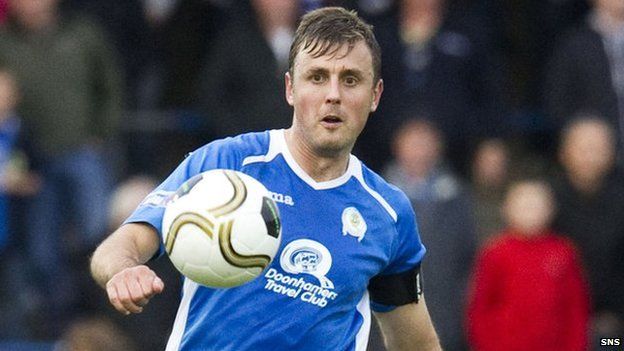 Former Queen of the South, Morton and Gretna player Ryan McGuffie has been ordered to pay compensation to a man he assaulted outside a Dumfries pub.
The 34-year-old, who has been playing in Australia, punched victim Graham Neish on the head causing him to fall.
Sheriff George Jamieson told McGuffie he had carried out a "serious assault".
He said he balanced that against his previous good record and plans to develop football in Australia and ordered he pay compensation of £2,000.
The sheriff said the incident seemed to be a "gross misjudgement" on McGuffie's part but his victim had been seriously injured.
The midfielder had previously admitted carrying out the assault in Loreburn Street, Dumfries, a year ago.
His victim had to be taken to Dumfries Infirmary with bruising on his head and a fractured collar bone, following the incident.
Solicitor Liz Dougan told the court that McGuffie and two colleagues had been out for the evening and in an earlier incident one of his colleagues had been taken to the police station.
McGuffie had tried to secure his release but had failed and was walking home when one of three men sitting on a bench had said something.
Thinking it was a challenge, Ms Dougan said, he had had reacted when the three had approached him.
She pointed out that since the attack McGuffie had spent a period in Australia as a coach with St Alban's Saints, and had been offered a four-year contract which was open until January.
Related Internet Links
The BBC is not responsible for the content of external sites.