River Ettrick salmon tagged in order to test 'fish pass'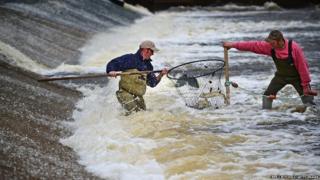 Salmon tagging has been carried on a tributary of the River Tweed in order to test the efficiency of a new "fish pass".
It has been installed at Murray's Cauld on the Philiphaugh Estate near Selkirk.
The fish pass is part of a wider upgrade of the area, which includes a hydro-electric station.
Salmon have traditionally leapt up the cauld - or weir - as they swim upstream from the Atlantic to spawn but they are now able to take the alternative route.
Kenny Galt and James Hunt from the Tweed Foundation and Tommy Heard, water bailiff for the River Tweed Commission, helped to carry out the tagging operation.