Biker hurt on Peebles to Innerleithen road wins compensation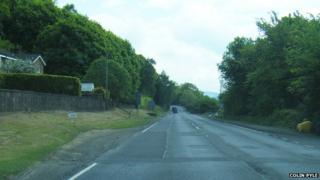 A judge has awarded £66,000 in compensation to a motorcyclist who was injured in a collision with a trailer on the A72 in the Borders.
Adam Russell, 25, needed medical attention after the accident on the Innerleithen to Peebles road in 2012.
He was heading to the gym when his bike hit the back of a trailer attached to a vehicle being driven by Brian Swinton.
In a written judgment at the Court of Session Lady Stacey ruled Mr Swinton had been at fault for the accident.
Lawyers acting for Mr Russell went to the court earlier this year in a bid to secure compensation from Mr Swinton's insurers - the National Farmers Union Mutual Insurance Society Limited.
They argued that Mr Swinton caused the accident by failing to take proper care when he had turned onto the A72 from a field that he had been working on.
Mr Russell's solicitors claimed that he should have seen their client in the moments before he pulled out onto the road.
They argued that he could have driven differently.
They said that Mr Russell had no choice but to collide with Mr Swinton's trailer as it had blocked his path.
The court also heard claims that Mr Russell had been breaking the speed limit in the moments leading up to the collision.
However, Lady Stacey's written judgement found Mr Swinton had been at fault.
'Contributory negligence'
"I have come to the view that the accident happened because Mr Swinton pulled out onto the main road once the pursuer had come round the corner and should have been visible to Mr Swinton had he taken due care," she wrote.
"I am not persuaded that the motorcyclist was exceeding the speed limit and thereby caused the accident.
"Rather, I am of the opinion that the accident was caused by Mr Swinton coming out of the field, and as he had a trailer, blocking the path of the motorcyclist."
Lady Stacey also said that she was not convinced that Mr Russell had acted wrongly or had contributed to causing the collision.
She wrote: "On the matter of contributory negligence, I am not persuaded that there is evidence to show that the pursuer was guilty of contributory negligence."