Kelso town centre investment completion celebrated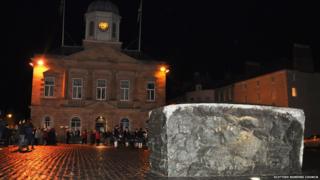 The conclusion of two major town centre projects costing some £2.8m has been celebrated in Kelso.
Kelso Laddie Ross Henderson unveiled the completed £2m streetscape works in the town square.
They include a newly carved Kelso crest in the entrance to the town hall.
Earlier in the day, the Horsemarket Business Centre, which cost £800,000 to construct, was officially opened by Councillor Ron Smith.