Dumfries and Galloway Council waste collection 'lessons learned'
A council has said lessons will be learned from any problems resulting from a new waste collection scheme in part of its region.
The Dumfries and Galloway authority brought a multi-bin system into use in Wigtownshire this year.
It said it had been encouraged by high levels of uptake but said some staff overtime had been needed to help cope.
A spokesman said the scheme would be reviewed in due course and any necessary changes implemented.
Dumfries and Galloway Council used to provide only one wheelie bin per household thanks to an Eco Deco plant which officially opened in 2007.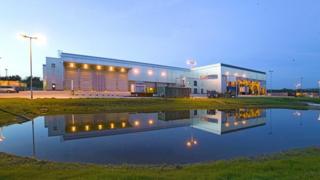 It separates waste, meaning homeowners do not have to.
However, new regulations prompted the council to move to a multi-bin system.

Analysis: Giancarlo Rinaldi, BBC news website, South of Scotland reporter
Few things are more likely to provoke the ire of householders than changes or problems with their bin collection.
Dumfries and Galloway used to have probably the most straightforward system in the country with just one bin to rule them all.
But changes in legislation prompted a radical revision and the number of containers issued to each home has now multiplied significantly.
Some teething troubles were inevitable as the first part of the region, Wigtownshire, moved to the new system.
However, the council has promised that any troubles encountered there will be ironed out as it spreads to the rest of the area.
Every household was issued with a box for paper and cardboard, another for glass metals and plastic and an "overflow box".
In addition, they have been provided with a kitchen caddy and kerbside caddy for food waste.
The council admitted that it had led to some staff working extra hours in order for collections to be completed.
A spokesman said: "Some overtime has been worked where required in order to ensure everything is lifted on the required day.
"The council has been encouraged by the level of household participation in the Wigtownshire area which is estimated to be higher than anticipated.
"Once a survey has taken place the participation levels in the service will be able to be measured accurately."
He said resources had been used to "prepare and provide information to households about the new service" which the council believed was a "vital part" of the scheme.
"The project team can provide information to households to assist with recycling inquiries," he said.
"Each inquiry related to the new waste and recycling service is handled on a case-by-case basis.
"The information leaflets given to each household with the new service have helped households to participate."
The spokesman said there were no records of any staff being injured carrying out the new collections.
However, he added that any problems encountered would be used to help improve the project as it was rolled out to the rest of the region.
"As with any project we will review after each stage and ensure that lessons are learned as we go forward," he said.
Do you live in Wigtownshire and have you moved to the new bin collection system? What are your thoughts on how smooth the transition has been? Let us know at dumfries@bbc.co.uk .