Kingsmeadows Estate sale 'lack of vision' claim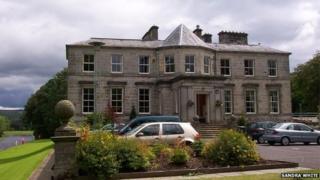 An entrepreneur who backed a failed community bid to buy a Borders estate has criticised the "lack of vision" of the company selling the site.
The Peebles Community Trust (PCT) found out last week its offer for Kingsmeadows Estate had been rejected.
Iain Scott, of the Can Do Towns Challenge, said he was disappointed with the move by owners Standard Life.
A spokesman for the investment firm said it had taken a number of factors into account in reaching the decision.
The PCT hoped the purchase of the site could help with town centre regeneration.
Among the ideas being considered for the estate were alternative accommodation such as bothies and glamping facilities.
The introduction of a cycle path and pedestrian bridge link to the town centre were also part of the plans.
However, their bid was not accepted in a move criticised by Mr Scott who is part of the Scottish government-backed Can Do scheme.
"This is a very disappointing outcome for Peebles more because it shows lack of vision on Standard Life's part," he said.
"Here was a superb opportunity to work with a community to create new opportunities for new entrepreneurs and to strengthen the local community.
"I have no doubt that Peebles will now bring what they have learned on the Can Do Towns Challenge to a new opportunity."
A Standard Life spokesman said it had "considered at length" all of the offers for Kingsmeadows.
"We have a responsibility to make a decision based on a number of factors including price, the intended plans of the bidder and their ability to conclude the sale," he added.
"We have notified all of the interested parties of our decision."