Jim Clark Rally: Campaign to reinstate event attracts 3,500 backers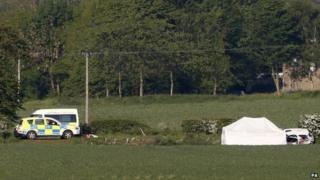 Campaigners have gathered more than 3,500 supporters in a matter of days for its bid to see the Jim Clark Rally reinstated for 2015.
Three people were killed while watching this year's event.
Scottish Borders Council announced last week that it would not be held next May saying detailed planning could not begin with investigations ongoing.
On Facebook, the campaigners said the decision could "cripple" the economy if it is not held during the year.
Iain Provan, 64, Elizabeth Allan, 63, and Len Stern, 71, died on a stage near Coldstream, which prompted a nationwide motorsport safety review.
Scottish Borders Council said on Friday that cancellation of next year's rally had been agreed after talks with Police Scotland and other interested parties.
It said "every effort" had been made to allow the event to be held but it had "regrettably" not been possible.
The move prompted the creation of the "Jim Clark Rally 2015 Must Go Ahead" Facebook page, which had thousands of likes by Monday afternoon.
Campaign organisers said they had been confused as to who had responsibility for making the decision.
"I do believe the non-running of next year's event will cripple the Borders economy and will take the sparkle out of Duns and Chirnside," they told the BBC Scotland news website.
"This rally needs to go ahead."
They said that they had been amazed by the level of support the Facebook group had gathered and hoped they could secure a commitment to a "definite date" to hold the rally in 2015 even if it was not in May.
Scottish Borders Council said it was aware of the campaign.
"The possibility of delaying the event to later in 2015 has been discussed and is being explored by the rally organisers, however a vital part of planning an annual event is a debrief on the previous year's event," said a spokesman.
"Such a debrief simply cannot take place, and will not be allowed to take place by the investigators until their work is completed, which may not be until well into next year.
"Once the investigations have been concluded, and we are allowed to, we will meet with the rally organisers and start working towards the preparations for the next rally, be that later in 2015 or in May 2016."
'Urgent clarification'
Berwickshire, Roxburgh and Selkirk MP Michael Moore said the cancellation decision had taken everyone by surprise.
"There are serious ongoing investigations which must be allowed to conclude, but it had been suggested that, as in other cases, that was not incompatible with proceeding with the event next year," he said.
"We need urgent clarification of the steps which will be necessary to allow this decision to be reversed and we need the full co-operation of all the authorities involved to speed decisions up.
"This rally is a significant sporting and financial event for Berwickshire.
"We must be able to combine appropriately thorough investigation into last year's tragedy with proper planning for the year ahead."