Borderers make Sierra Leone tribute to Galashiels soldier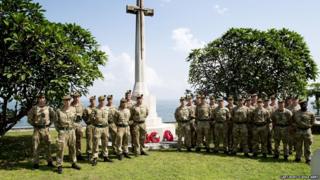 Members of the Royal Scots Borderers have paid their respects to a Galashiels soldier who died in Sierra Leone more than 70 years ago.
Lance Serjeant Frederick Robertson is buried in King Tom Cemetery in Freetown.
He died in 1941 while on attachment with the Kings African Rifles.
The Royal Scots Borderers are currently based in Sierra Leone as part of the UK government-led response to the Ebola outbreak.
Lance Serjeant Robertson served with the Kings Own Scottish Borderers which merged with the Royal Scots to form The Royal Scots Borderers, 1st Battalion The Royal Regiment of Scotland (1 SCOTS).
The 1SCOTS soldiers conducted a short service of remembrance and laid a wreath on his grave.
Cpl Kieran Haig, from Galashiels, said: "It is an honour to be here today.
"This is a once in a life time opportunity to pay our respects to this fallen soldier who is buried far from home."
Maj Nick Colquhoun, Officer Commanding B Company 1 SCOTS, said they felt it was a timely tribute.
"On this Armistice Day as we remember all those who have gone before us, we thought it fitting that we do so at the graveside of one of our own regimental family who died here in 1941," he said.
"Lance Serjeant Robertson was born and raised in Galashiels in the Scottish Borders, in the same home town and region as a number of those soldiers of B Company, 1 SCOTS gathered here today."