Threave Estate dig site dates from Iron Age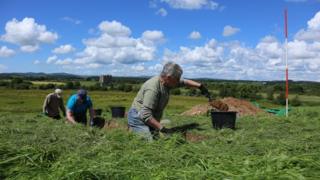 Radiocarbon dating has confirmed a site excavated on the National Trust for Scotland's Threave Estate in Dumfries and Galloway dates from the Iron Age.
Archaeologists and volunteers spent a week excavating the enclosure on Little Wood Hill, overlooking Threave Castle, near Castle Douglas.
Although few artefacts were recovered, charcoal flecks and samples were sent for dating.
They have now confirmed the site belongs to the Iron Age.
Derek Alexander, head of archaeological services for the NTS, said: "It is always exciting to get radiocarbon results, especially when there was very little else that we could use to date the site.
"This is the first confirmed prehistoric date that we have on our large estate at Threave.
"Other sites are known close by, and the discovery, in the 19th century, of significant Iron Age metalwork in Carlingwark Loch and from Torrs, close to Castle Douglas, indicate that this was an area of major importance 2,000 years ago."