Man drives car at St Joseph's College pupils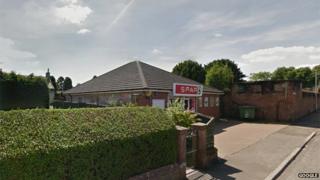 Police have said an incident where a car mounted the pavement and was driven towards seven secondary school pupils could have ended in "catastrophe".
It happened on Rosevale Street in Dumfries at about 13:35 on Wednesday.
A small, dark blue Toyota Auris-type car was driven along the pavement at the St Joseph's College students before pulling away at speed.
Police said it followed an "exchange of words" between the boys and the driver outside a nearby Spar shop.
The motorist has been described as being between 5ft 9in and 6ft tall, of thin build and about 50 to 60 years of age.
He had short, grey, untidy hair and a local accent and was wearing dark-rimmed glasses, a mid-length, light coloured jacket and jeans.
PC Stephen Easthill, school liaison officer for St Joseph's, said: "Thankfully no-one was injured in this incident, however it could have been a catastrophe.
"I am appealing to anyone who can help us identify the driver of this vehicle to call us on 101, or indeed the driver himself to come forward to explain his actions."