School pupils name Scottish Borders gritter fleet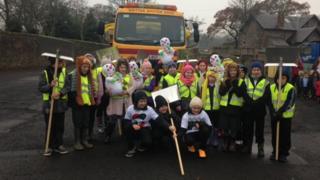 The school pupils who won a competition to name a fleet of nine gritters across the Borders have been announced.
The first winner to see their name in place was Kamal Aziz at the Philiphaugh Community School who came up with Gritter Spitter 3000.
Other names included Gritter Garbo, Grit Britain and the Border Blaster.
A winner was selected from thousands of entries in each of the nine high school cluster areas in the region.