Plans for Shambellie House to be outlined at open day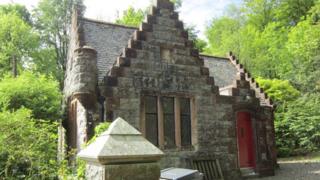 The former Scottish National Museum of Costume will open its doors to the public this weekend.
The group behind plans to redevelop Shambellie House, near New Abbey, want to build support for the project.
They have just six months to prove their case for community ownership to the Scottish government.
On Saturday local people will be able to view some of the options for the future of the house, outlined by The Prince's Regeneration Trust.
They include holiday accommodation and an arts or outdoor centre.
Gordon Mann, chairman of the project's steering group, said: "Creating a new beginning for a building that has been so much a part of this community will be hard in the current economic climate.
"What we do not lack is enthusiasm and we are all excited by the opportunities that The Prince's Regeneration Trust has outlined.
"Our task will be to develop these ideas and make them happen - but to do this we need the help of as many people as possible."
People will also be invited to look around the house during the open day from 12:00 on Saturday.
Shambellie House has lain vacant since its closure last year, despite cross-party opposition.
The report by The Prince's Regeneration Trust can be accessed through the Scottish government website.