Formal plans for £200m Dumfries hospital submitted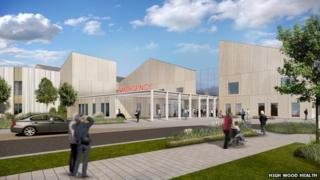 Formal plans have been tabled for a new district general hospital in Dumfries.
The £200m project is being recommended for approval by Dumfries and Galloway Council.
The planned 350-bed complex is earmarked to be built on farmland off the Garroch roundabout at the western end of the town's by-pass.
NHS Dumfries and Galloway has also applied to build staff residences, a heli-pad and 980 parking spaces.
A new road layout for the site has already been completed and High Wood Health has been named as the preferred bidder for the works contract.
Six objections have been tabled, highlighting concerns about increased traffic and road safety.
If it is given the backing of the council, construction is scheduled to begin in Spring 2015, with acute services transferring to the new building in early 2018.