Oldest barnacle goose, aged 30, spotted on Solway Firth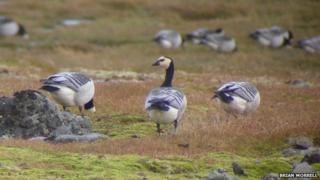 A barnacle goose believed to be the oldest on record has been spotted on the Solway Firth.
The bird, which was tagged in 1986, is believed to be at least 30 years and four months old.
Its age is well in excess of the typical lifespan of the species, which normally extends no more than 12 years.
The goose was spotted at Caerlaverock Wetland Centre, where about 30,000 spend the winter after migrating from Svalbard in the Arctic Ocean.
Centre manager Brian Morrell said: "It's just amazing to think that these birds can live to such an age."
During their first few days of life, goslings have to leave the nest where they hatched to jump from a cliff hundreds of metres high.
The spectacle recently featured in an episode of BBC's Life Story.
"They have an incredible first few days of life," said Mr Morrell.
"They then migrate to the Solway when they are just three months old, before the Arctic winter sets in."
Leg rings
The geese fly the 2,000 miles between Svalbard and the Solway Firth twice a year.
Mr Morrell estimates that this particular goose has flown about 120,000 miles during its long life - the equivalent of five times around the circumference of the earth.
"It must be a fairly smart old bird to have survived all that," he said.
The first birds were tagged at Caerlaverock by renowned conservationist and artist Sir Peter Scott, using a rocket propelled net in the 1960s.
They were fitted with coloured plastic leg rings engraved with an individual sequence of letters which allowed observers with telescopes to read them from a distance and identify individual birds.
The research project has continued and when the goose was spotted, they were confident that the bird was tagged on 28 July 1986 when it was at least two years old.
Volunteers have previously noted birds aged up to 28 years old.