Parental protest staged over Dumfries and Galloway learning cuts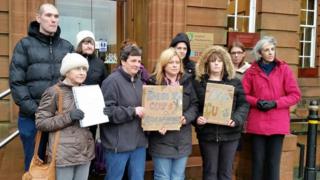 Parents opposing planned cuts to education spending in Dumfries and Galloway have staged a demonstration outside council headquarters.
The protest came as councillors met to discuss draft budget proposals tabled by the Labour administration.
As part of the wider spending plan, services for pupils who need extra help in the classroom could face a £2m cut.
Some 52 full-time posts, including specialist teachers and classroom assistants, are earmarked to go.
It is claimed the move would streamline and enhance a hugely complex sector which is made up of multiple specialities.
Local parent Demi Powell, of Dalbeattie, said: "The majority of the feedback we are getting is that the restructuring of the service offers a lot of positive benefits for children with additional support needs and also for a lot of staff.
"The things we are specifically concerned about are the large cut backs to specialist staff, the impact this will have on special needs children and the impact this will have on mainstream classes as the workload or their teachers increases."
Parents behind the demonstration have set up an online petition against the staffing cuts. It has so far attracted 1,200 signatures.