Dumfries and Galloway expects £2.8m from wind farm funds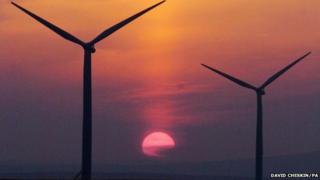 Communities in Dumfries and Galloway could receive more than £2.8m-a-year from wind farm community benefit funds.
They currently receive about £400,000 a year but the council expects that figure to rise when turbines currently under construction become operational.
However, a regional fund is empty, despite a local authority policy to split funds equally between "host" communities and the wider area.
The council claims local people can be unwilling to share the funds.
In a report to Dumfries and Galloway Council's economy, environment and infrastructure committee, officials said that developers can also be reluctant to sign up to the 50/50 split.
They have also reported that communities are unwilling to discuss funding with the council, for fear of losing out to the regional pot.
The report stated: "This consequently means that the communities do not access support from the council which could assist in securing a fair deal for them and the council is effectively excluded from the process."
Council officials are now proposing wholesale changes to its wind farm community benefit policy.
Wind farm developers are expected to pay a minimum of £5,000 per megawatt (MW). Under the new policy, that principal would be retained but it could not be imposed on the developer.
They also suggest scrapping the 50/50 split and instead agreeing the community benefit contribution on a case-by-case basis.