Dairy farmers 'under pressure' over payment delay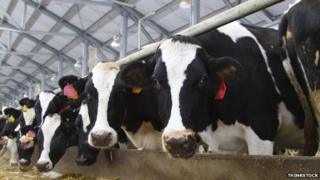 A two-week delay in milk payments will place "extraordinary pressure" on many dairy farms across Scotland, according to a union leader.
Glasgow-based First Milk announced it was making the move after a "year of volatility" and losses accrued in the first part of the financial year.
A payment due on 12 January will now not be made until 26 January.
Borders-based NFU Scotland President Nigel Miller said he had been assured the "extreme" move was "necessary".
As well as delaying the January payment, First Milk chairman Sir Jim Paice confirmed future payments would also be deferred by two weeks.
"We understand that the milk payment deferral will cause concern for members as direct debits and payments will have been lined up against milk cheques," he said.
"On that basis, we are working with all major banks at national, regional and local levels to explain the rationale around this decision.
"That way, bank managers should be well equipped for any conversations they have with First Milk members."
Mr Miller said a worldwide collapse in dairy values, compounded by a Russian food ban, was having a "catastrophic impact" on the milk price being received by many Scottish dairy farmers.
"Today's announcement by the farmer-owned business First Milk underlines the extreme lengths some milk processors are having to undertake to secure their businesses in light of falling powder prices and cheese values," he added.
He said he had received assurances that the move was needed to "address short term cash flow issues" and would leave the company "on a more solid footing by the end of summer".
"The action has been triggered by cash flow factors and does not reflect problems in the trading performance," he said.
"First Milk believes these measures will reduce borrowing, create a more stable platform and leave it in a position to quickly return benefits to members when markets start to turn."
'Exceptional times'
Mr Miller stressed that farmers needed "straight talk with no flannel" from First Milk.
"These changes will place extraordinary pressure on many dairy farms in Scotland," he added.
"We raised the issue of cash flow problems on dairy units with all the major clearing banks in late December and, given these exceptional times, we will speak to them again this week.
"We have also re-approached Scottish government, urging them to consider supporting a fast-track farm business review scheme for those dairy farms needing to consider what business options are open to them."