Dumfries provost's 100-year-old robes to be replaced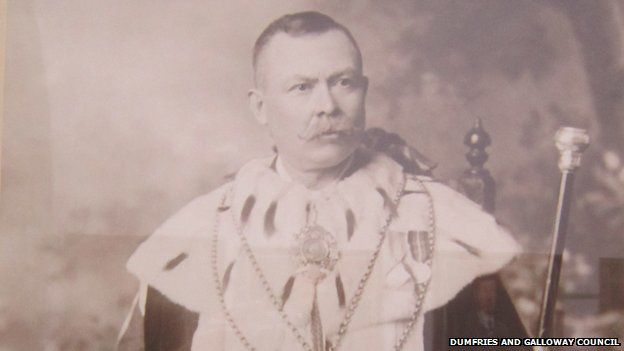 Ceremonial robes worn by every provost of Dumfries over the last 100 years could be replaced.
The gown, made from satin and ermine fur, is thought to have been commissioned by Provost Joseph Johnstone Glover in about 1900.
However, the garment is slowly falling apart, and frequently "moulting" fur and feathers.
Provost Ted Thompson has applied to Dumfries Common Good Fund for £2,500 for a replacement.
He has also pledged to spend his annual expenses allowance of £1,000 on new robes.
Mr Thompson said: "I'm not somebody that looks to go around in robes but I think it's important for the history of Dumfries that we have something for the ceremonial occasions when the Provost of Dumfries has to take part in events.
"This one has lasted 100 years and I expect the new ones to do the same."
They are most commonly worn during the annual Guid Nyhburris festival, which celebrates Dumfries' elevation to Royal Burgh Status on the third Saturday of June.
Provosts are also expected to wear a hat and a "priceless" chain at the event, but they are not in need of replacement.
The robes are far from comfortable however, Mr Thompson said.
"Last year it was very, very warm. With that and the hat on I had to change shirts a few times during the day," he added.
Related Internet Links
The BBC is not responsible for the content of external sites.