Peebles Sheriff Court sits for final time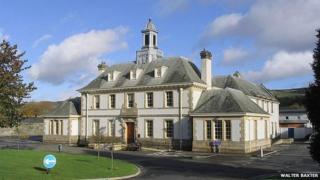 Peebles Sheriff Court has sat for the final time before all of its business is transferred to Selkirk.
Local justice has been administered in the Borders town for the past 150 years.
There were 10 cases assigned for the final sitting which was presided over by Sheriff Kevin Drummond.
The final scheduled sitting of Duns Sheriff Court is next Wednesday with business being transferred to Jedburgh, 30 miles away.
The two courts are among a number around the country being closed in a bid to save money.
Building closed
Concerns have been raised about the impact of the extra business on other courts and the travel distances required.
However, the Scottish government said the changes were "justified" and compatible with wider justice reforms.
Peebles Sheriff Court used to be situated at the foot of the town's High Street but that building closed in 2001 after extensive dry rot was discovered.
Cases were heard at Selkirk for four years before Peebles Sheriff Court reopened in Rosetta Road in 2005 in a building containing local council offices situated beside a new police station.