Crowds turn out in Dumfries for Big Burns Supper carnival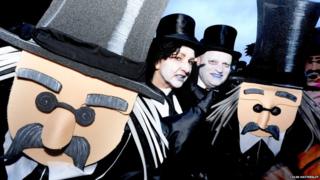 Thousands of people lined the streets of Dumfries on Sunday for a carnival through the heart of the town as part of the Big Burns Supper festival.
It was a centrepiece of the expanded nine-day festival, which runs until 31 January.
The carnival featured an array of floats and costumes produced by school and community groups from across the region.
About 3,000 lantern-bearers took part to mark the 2015 Year of Light.