NHS Borders apologises over treatment delay due to data error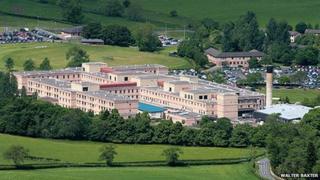 NHS Borders has apologised to patients who exceeded their treatment time guarantee (TTG) due to a "temporary error" in its data entry system.
The issue affected people added to waiting lists between 2 September last year and 6 January this year.
Some 38 out of 1,767 patients listed for treatment missed their targets - with the maximum delay 11 days.
NHS Borders said a further 60 patients who were still to receive treatment were at risk of exceeding their TTG.
Every patient whose guarantee date has been affected has been sent a letter of explanation and apology from the health board.
'Functioning as intended'
NHS Borders' head of information management and technology Jackie Stephen said: "The cause of this error was a configuration error within our IT system, and regretfully the treatment time guarantee for a small number of patients has been affected.
"I would like to apologise on behalf of the board for any inconvenience that this has caused."
Dr Hamish McRitchie, who chairs the Borders General Hospital clinical board, said he wanted to reassure the public it had taken the situation "very seriously" and every effort was being made to minimise the impact on patients.
"The efforts of staff in recognising and correcting the error are to be commended, and our learning will be fed into future system developments and checks," he added.
NHS Borders said remedial action had been taken and the system was now "functioning as intended".