Borders to Edinburgh railway: Business opportunities 'must be seized'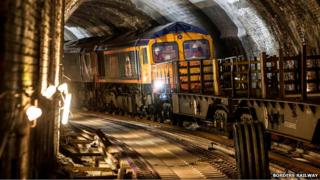 A Borders business leader has said there is a "real appetite" among local firms to seize the opportunities offered by the new rail line to Edinburgh.
Jack Clark, who chairs the Scottish Borders Business Forum, was speaking after a meeting to discuss the subject.
He said the event at Scottish Borders Council's headquarters had been "hugely oversubscribed".
He said that showed the level of business interest.
Another meeting is now planned.
Among those speaking at the event was Mike Kean, UK Rail Development Director for Abellio, which will operate the Borders Railway franchise.
MP Michael Moore and Stuart Bell, SBC's executive member for economic development, also spoke.
'Further discussion'
Mr Clark added: "I was very pleased that local businesspeople were able to hear directly from Mr Kean about the services to be provided from September this year.
"The forum is now looking at running a follow-up event to enable further discussion about the business opportunities connected to the return of trains to the central Borders.
"The Borders Railway will provide opportunities for local firms that must be seized, and it is clear that there is a real appetite amongst businesspeople to do just that."
Passenger services are set to start running between Tweedbank in the Borders and Edinburgh on 6 September.