Woman found unconscious in blizzard near Innerleithen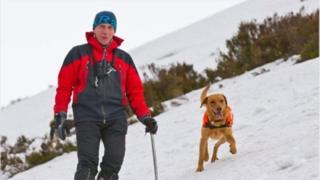 A missing woman was airlifted to hospital after she was found unconscious in blizzard conditions in the Scottish Borders.
The woman was traced about 10 metres from a forest track near Innerleithen by a new search and rescue dog used by Tweed Valley Mountain Rescue Team.
A Royal Navy Sea King helicopter was also scrambled to use its infrared camera on Wednesday night.
The woman was discovered after a three-hour search in "atrocious" conditions.
The mountain rescue team had already walked the track close to where the woman was found but her dark clothing made her difficult to see.
It was only when three-year-old Labrador cross, Rauour, was deployed that its sensitive nose was able to trace the woman.
Deputy team leader Dave Wright paid tribute to the young dog and its handler, John Romanes, on their first find as members of the MRT.
He said: "The conditions were pretty bad with strong winds and driving snow - it's a safe to say that the combined efforts of John and Rauour, Tweed Valley MRT, Police and the Royal Navy saved the woman's life."