Alistair Carmichael hails Borders textile trade success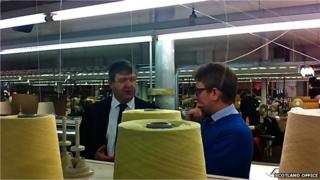 Scottish Secretary Alistair Carmichael has highlighted the Borders as a "prime example" of what Scotland has to offer to the rest of the world.
He visited Borders College in Galashiels and Hawick Cashmere.
He said he had seen that the education facility was a "fantastic place" for young people to learn.
He also praised Hawick Cashmere for its efforts to employ apprentices and export around the world with stores in London, Tokyo and Zurich.
"This company is a leading example of what Scotland has to offer the world," he said.
"They are making the most of their local resources and selling at the high end of the market in places like Switzerland and Japan.
"It's a great success story and through the UK's extensive diplomatic trade and consular network we will ensure they can make the most of new markets as well as developing existing ones."
'Hugely successful'
Accompanying Mr Carmichael during his visit was Borders Lib Dem MP Michael Moore.
"We have had some pretty hard times in Hawick - not just in the last 10 years but over the last 20, 30, 50 years," he said.
"The important message, however, is that the businesses like Hawick Cashmere that are still working very hard in the town are hugely successful.
"There is a real future for all of this so let's look positively at this, let's get young people in getting decent training and let's support the businesses to invest in their future."