Dumfries and Galloway car rallies provide cash boost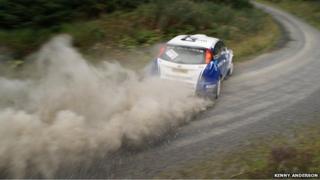 Three Scottish Championship car rallies in Dumfries and Galloway generated almost £600,000 for the local economy in 2014, according to a new report
It concluded that the local authority receives a "superb" return on its investment in the Scottish, Merrick Stages and Galloway Hills rallies.
It recommended a working group is set up to look at shared projects between the events and other agencies.
Councillor Colin Smyth welcomed the council-commissioned report.
He said: "I am obviously delighted to learn about the superb financial value to our regional economy from the rallies, and the high return on investment they create from public funding.
"Dumfries and Galloway has a proud history indeed of motorsports events and champions, provides the perfect terrain for rallying, and is clearly a much loved destination for competitors and related visitors."
The report claimed the rallies created £591,112 of net benefit to the regional economy.
It suggested that investigating the feasibility of a Dumfries and Galloway rally championship series, joint marketing between the three events and shared training initiatives for marshals and volunteers.
A rally spokesman said: "Our region can be an absolute centre of motor sports and the study gives us the opportunity to develop cooperative projects together and to seek further public funding for our plans."