Young carer Abi Wardle wins heroism award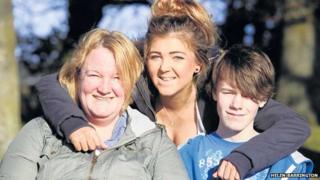 A teenage carer has won a new award for her heroism in saving her mother and her younger brother from choking.
Abi Wardle, 16, from Galashiels in the Borders, will receive the Annie Dow Heroism Award in Edinburgh next month.
The award recognises "true acts of heroism" among young people who have additional support living needs.
Abi was juggling school life with caring for her father Peter, who has cancer, when her first aid skills helped save her mother and brother.
She had undertaken a basic first aid course just two months before the incidents in December 2013.
But her skills helped when her 37-year-old mother Lisa and her 13-year-old brother Ben collapsed with breathing problems within three days of each other.
'Truly remarkable'
Abi, now a hairdressing student at Borders College, was nominated for the award by Scottish Borders Young Carers Service co-ordinator Jo Glover.
She said: "Abi deserves to be recognised as she dealt with not one, but two potentially life-threatening situations involving close family members within days of each other in addition to dealing with the ongoing stress and anxiety of her dad's condition.
"She is truly remarkable."
The award was inspired by the heroism of Annie Dow, a 23-year old with learning difficulties, who raised the alarm and led her family to safety when fire engulfed their home at Inveresk near Musselburgh.
Her exploits attracted a donation of £20,000 from an anonymous former serviceman to fund annual awards in her honour.
Abi will receive the inaugural award and a £2,500 prize in the Summerhall arts hub, formerly the Royal (Dick) School of Veterinary Studies, in Edinburgh on 19 March.