Robert the Bruce campaign launched in Dumfries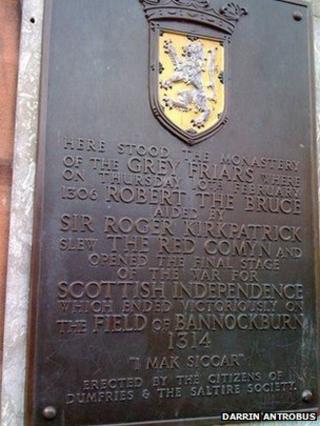 It is the spot where Robert the Bruce began his bloody bid for the throne of Scotland, but it is marked with little more than a plaque.
Now a major campaign has been launched to recognise the freedom fighter's connections with Dumfries.
There are plans to create an interactive visitor centre on the site where Bruce clashed with John Comyn.
Campaigners also hope to commission DNA testing on remains excavated in 1961, believed to be his defeated rival.
A spokesman for The Robert the Bruce Commemoration Trust said he believed their plans could attract visitors from around the world to Dumfries.
He added: "Bannockburn rightly celebrates Bruce's decisive victory in 1314, but his story began right here in the heart of Dumfries and it may turn out that there is solid evidence beneath the street in the centre of the town."
Global audience
Bruce met "Red" Comyn, his rival for the crown of Scotland, in the old Greyfriars Church in the centre of Dumfries exactly 709 years ago - on 10 February 1306.
Comyn was killed at the high altar and Bruce began his bid for the throne.
The remains of the monastery sit below a number of empty shops in Dumfries' Castle Street.
The trust wants to launch a bid to acquire the former Poundstretcher shop and to create a visitor centre on the spot where the story began.
They also want to carry out DNA testing on remains removed from the monastery during excavations more than 50 years ago, which are now stored in Dumfries Museum.