Building works for new Kelso High School delayed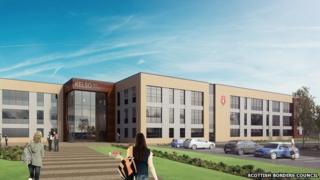 Building work for the new Kelso High School has been delayed.
Scottish Borders Council blamed the hold-up on a European ruling which has affected a number of new building projects across Scotland.
The law change affects schemes processed through the Scottish Futures Trust (SFT).
They were treated as private sector projects but now they must be considered public sector.
A council spokesman said the Scottish Futures Trust and the Scottish government are aware of the problem and they are working to ensure a solution is found "as soon as possible".
He added that council officials will continue to complete preparatory work.
The new £21.4m Kelso school will replace the existing building, which dates from the 1930s.
The school at Nethershot on Angraflat Road will include new grass and synthetic sports pitches as well as community facilities.