Opposition to MoD's Chapelcross plan revealed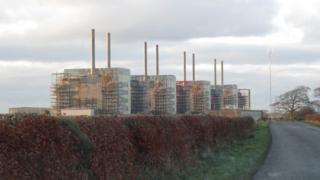 An independent liaison group has revealed its opposition to plans to use a former nuclear plant to store radioactive material from decommissioned Navy submarines.
Chapelcross in Dumfriesshire is one of five locations in the UK being considered by the Ministry of Defence.
But the Chapelcross Site Stakeholders Group said it cannot support the plan.
It said the proposal offers virtually no job opportunities or investment for the local community.
In its official response to the MoD consultation, the group said it believed the plans had "virtually no socio economic benefits to the local area".
Public opinion
Chairman Ronnie Ogilvie, a councillor, said: "What I was thinking of was some infrastructure improvements in and around Annan but that's not on the books so that's why we said, at this moment in time, no thank you very much."
A series of public debates and presentations have been held on the issue.
The UK government has pledged that public opinion will be taken into account in deciding the final location.
Sellafield in Cumbria, Capenhurst in Cheshire, and Aldermaston and Burghfield, which are both in Berkshire, are also under consideration.
Dumfries and Galloway Council will draw up its response to the MoD's plans for Chapelcross this week.
Members of the community and customer services committee will be asked to agree a submission which endorses the issues raised by the stakeholders' body.