Call to relax rules on trapping crayfish in Loch Ken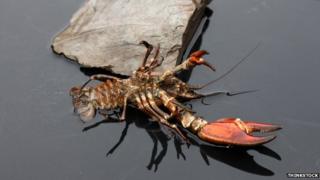 The Scottish government has been urged to relax the rules on commercially trapping non-native crayfish.
The American signal species are said to have had a devastating impact on Loch Ken, near Castle Douglas.
A petition on the issue has been lodged with the Scottish Parliament by the crayfish committee for the Ken-Dee catchment.
It will be considered by the parliament's petitions committee when it meets in Dumfries on 23 February.
The petitioners said the population of the invasive species had grown "out of control", causing the destruction of salmon, sea trout and brown trout spawning beds.
They claim it has also led to the loss of river walks, farm land, dragonfly nesting areas, wild fowl and the "complete destruction" of the marine biosphere in the affected areas.
The contaminated area has increased from 35 sq km (13.5 sq m) to 87 sq km (33.5 sq m) and it will cover the whole of Scotland's inland waters if left unchecked, the petitioners claim.
John Thom, who sits on the crayfish committee which lodged the petition, said three companies had expressed an interest in commercially trapping crayfish in the region.
He added: "They could be doing it for 10 years, full employment for 130 people.
"The site is there to be done locally, it's just getting the law changed so it can be done."
The petitions committee will be held at Easterbrook Hall in Dumfries as part of Parliament Day.