'Yarn bombers' strike on Dumfries cycle path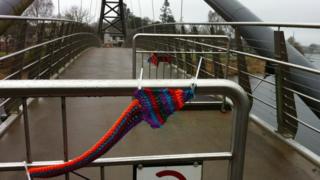 A group of "yarn bombers" has struck by leaving knitted items along the bollards and railings of a cycle path in Dumfries.
They appeared overnight between Tuesday and Wednesday.
The only clue as to who carried out the work are tags from the "Bollard and Chicane Protection Authority".
Yarn bombing, also known as guerrilla knitting, is a type of street art using items made from yarn - whether knitted, crocheted, or made into pom-poms.