Stamp of approval for David Gow's bionic hand invention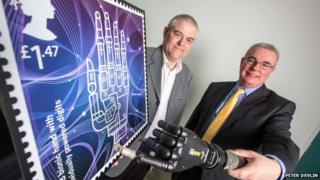 A pioneering invention by a Dumfries-born engineer is featured on a new set of Royal Mail stamps celebrating Inventive Britain.
The i-limb artificial hand developed by David Gow is one of eight great innovations from the last century selected for the special collection.
Mr Gow grew up near Annan and went to Annan Academy and Edinburgh University to study mechanical engineering.
He began to specialise in artificial limbs, initially within the NHS.
Later he set up Touch Bionics in Livingston and launched the revolutionary i-limb in 2007.
The bionic hand has a rotatable thumb and articulated fingers, each one individually powered by its own miniature motor and gearbox.
Users only need to think about moving their hand to send an electrical signal from their brain to make it work. It gives them both a powerful grip and a light touch as required.
'Life-changing innovation'
David Gow is a fellow of the Royal Academy of Engineering and was made a CBE in last year's birthday honours.
He said he was proud to see the i-limb feature on a Royal Mail stamp.
"The Royal Mail stamp is an icon in itself, so to see the i-limb featured on one is a great honour," he said.
"When I first started working in prosthetics, I simply wanted to try and use technology to help improve the lives of people with limb loss - I could never have imagined that it would one day lead to this."
Livingston MP Graeme Morrice said: "The i-limb is truly a life-changing innovation.
"I am delighted to see Royal Mail celebrating one of Livingston's local inventions especially in such illustrious company as the World Wide Web and stainless steel.
"Seeing two Scottish inventions in the stamp set really shows that we punch above our weight for a small country."
The stamps also celebrate another Scottish inventor, Edinburgh-born William Watt, who invented carbon fibre.