Jedburgh flood protection scheme wins approval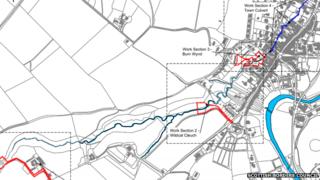 A flood protection scheme for Jedburgh town centre has been approved by councillors.
The £313,000 project has been designed to protect properties from flooding by the Skiprunning Burn.
Dozens of homes, shops and businesses were flooded after a torrential thunderstorm in August 2012.
Members of Scottish Borders Council have been told that work on the scheme is likely to be carried out in the next financial year.
A survey carried out after the 2012 flood found that it was principally caused by debris blocking a culvert inlet trash screen.
The scheme includes improvements to protection measures near the culvert at Larkhall Farm and the introduction of a debris trap and other debris management measures at Wildcat Cleuch.