Series of events as Parliament Day is held in Dumfries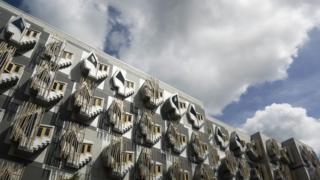 The Scottish Parliament visited Dumfries this weekend as part of a drive to encourage local communities to become involved the political process.
It is the latest in a series of visits by senior members of the parliament to communities outside of Edinburgh.
Presiding Officer, Tricia Marwick, was among a number of MSPs at a communities conference at the Easterbrook Hall on Saturday.
On Monday the public petitions committee will meet in the town.
The Presiding Officer and local MSPs Elaine Murray and Alex Fergusson will also visit BSW Sawill in Dalbeattie and Maxwelltown High School.
Ms Marwick said: "We know that the people of Scotland want to be involved in the political process and that is why I want the parliament to get out and about across Scotland all the more often.
"The Scottish Parliament belongs to the people of Scotland and Dumfries offers the parliament a great opportunity to hear from the community about the issues that matter to them."
Among the petitions due to be heard on Monday is a call by local councillor Andrew Wood for a review of the regulations for meat rendering plants.
Local businessman David Slater will ask that the Scottish government provides no further funding for the council to build a £12m flood defence scheme at the Whitesands in Dumfries.
The committee will also head a call for a relaxation of the laws on trapping American signal crayfish.
The day-long communities conference was open to local community groups, voluntary organisations, charities, social enterprises, civic groups and community activists.
Local MSPs and Scottish Parliament staff shared expert advice during a series of workshops.