Hightae wind farm landowner pledges £875,000 to community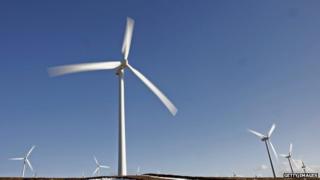 A farmer behind plans for a controversial Dumfriesshire wind farm has pledged to donate £875,000 to the local community over 25 years.
Landowner Malcolm Bell Macdonald made the offer in a letter to the Royal Four Towns community council.
He owns Hartwood Hill near Hightae, where renewable energy firm Airvolution wants to build seven turbines.
However, an objectors' group said the development would affect many more communities than the Royal Four Towns.
Mr Bell Macdonald said his annual donation of £5,000 per turbine over the life of the wind farm, would be in addition to a community benefit fund set up by the developers.
'Force for good'
If the plans are approved by Dumfries and Galloway Council, the communities of Hightae, Heck, Greenhill and Smallholm would receive £35,000 a year from the farmer.
Mr Bell Macdonald said he had always lived and worked at the Rammerscales Estate and wanted his donation to help make the area "carbon neutral".
He added: "I have lived here all my life and my family will continue to do so and should we get permission it will be within my gift to give something back to the community that I grew up in.
"We need to recognise that alternative energy sources are a force for good in our attempts to reduce our carbon emissions."
'Strikes at the heart'
Mr Bell Macdonald made the offer after the community council lodged a formal objection to the plans, following a public meeting.
Gill Korszanski, of Communities Against Hartwood Turbines, said Mr Bell Macdonald's offer had made the group "quite angry".
She added: "This is an application that strikes at the heart of many communities, not just the Royal Four Towns.
"Making this offer before the planning application is considered, in my opinion, almost a corruption of the planning process.
"The decision needs to based on the local development plan. It certainly should not be driven by financial gain to one community."