Threatened Scott's Selkirk Christmas festival is saved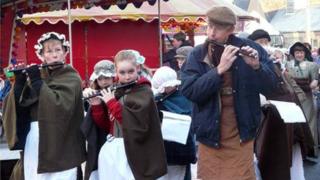 An under-threat Christmas festival which celebrates the life of Sir Walter Scott has been saved.
The organisers of Scott's Selkirk planned to dissolve the committee due to a lack of volunteers.
But an emergency meeting on Monday attracted a number of new members and the committee agreed to organise a 2015 event.
Scott's Selkirk has been held since 2000 and at the height of its success it was a two-day winter festival.
It attracted thousands of people to the town to enjoy street entertainment, historic re-enactments, concerts and a fireworks finale.
As volunteer numbers dropped, last year's festival was scaled back to a single day.
Further meetings are planned to finalise changes to this year's event and they hope many parts of the original festival will remain.