Defibrillator plans for Dumfries and Galloway stall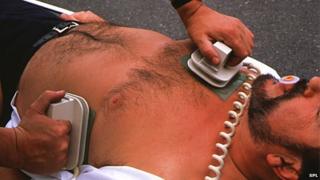 Plans to supply communities across Dumfries and Galloway with life-saving defibrillators look likely to stall.
Campaigners have applied for funding to put 12 of the heart-starting devices in community centres in Nithsdale.
Many of them would be placed in remote, rural areas where ambulance response times could be lengthy.
However, council officers have recommended the funding is refused, after experts found they have little impact in areas of sparse population.
Community group The Hub has applied for £3,770 from the Nithsdale area committee to fund defibrillators and training for volunteers.
'Better outcomes'
Among the areas included in the scheme are the villages of Penpont, Moniave, Keir and Tynron.
In a report to the committee, DG Health and Wellbeing - a joint unit between Dumfries and Galloway Council and the local health board - said early defibrillation of heart attack victims "undoubtedly" leads to better outcomes.
"However, in order for significant numbers of people to receive this benefit, defibrillators would need to be available either in very widespread locations or targeted to those locations where a relatively high number of cardiac arrests have been shown to take place regularly," it added.
The report suggested that providing defibrillators for community first responders "may be a more effective intervention".
Karen Lewis, manager of The Hub, said the report suggests the equipment should only be placed in heavily-populated areas.
"They are telling rural communities it doesn't matter if one of them dies, which I just think is quite shocking," she added.
'A real need'
Similar applications by community groups in Stewartry are also in the pipeline.
Colvend and Southwick community council has applied for £387.99 for a defibrillator in Rockcliffe.
Chairman John Withers said: "In a rural area we have said there's a real need for defibrillators because we have to wait perhaps 20 minutes or more for an ambulance to arrive, by which time it could be fatal."
The British Heart Foundation said public access defibrillators (PAD) should be put in places were they were most needed, including areas where there are high numbers of people.
June Davison, senior cardiac nurse at the charity, said: "But having access to a PAD is only one link in the chain of survival. Just as crucial is calling 999 immediately and performing immediate cardiopulmonary resuscitation."