Man arrested at airport after failing to pay Dumfries fine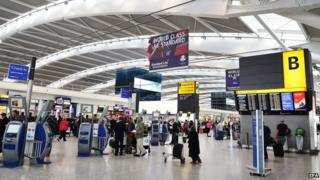 A lorry driver was arrested as he tried to board a flight at Heathrow Airport after he failed to pay a fine issued at a Dumfries court.
It was imposed at the town's Justice of the Peace Court because the man, who has not been named, exceeded the daily driving limit.
He was stopped by police as he tried to catch a flight to Poland.
The Scottish Courts Service said he was allowed to continue when his partner paid the fine in full over the phone.
The court service's chief operations officer Cliff Binning said: "If you are planning a trip abroad, you should ensure that all outstanding fines are paid before booking your ticket.
"Otherwise you risk being stopped at the airport by the police and having your travel plans disrupted."
A new report shows that 86% of the value of sheriff court fines imposed between April 2011 and March 2014 has been paid or were in the process of being paid through instalments.