Dumfries and Galloway taxi drivers could get English language help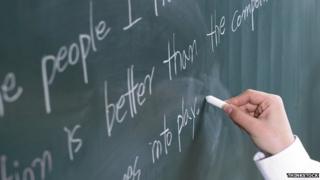 Taxi drivers in Dumfries and Galloway could get help with their English language skills as part of new proposals to improve the service.
It is one of a range of measures being considered by the local licensing panel.
Stricter medical standards, a dress code, customer care training and CCTV in vehicles could also be brought in.
A report to the licensing panel achieved agreement on taking the proposals forward.
Three groups of panel members have met to help draw up the suggestions to improve the service.
Their recommended proposals are:
the introduction of stricter medical standards
a dress code
allowing CCTV in vehicles, subject to data protection issues
the introduction of a knowledge test
training for drivers and applicants including customer care and language skills
They also want "detailed expert evidence" on issues such as accessibility of vehicles, their maximum age and monitoring their condition.
The licensing panel report said most local authorities already operate the tighter medical standards being suggested.
It also outlined a dress code operated by Perth and Kinross Council which could be used as a template for Dumfries and Galloway.
It said all drivers should "dress smartly and maintain a clean and tidy appearance" and should not wear the likes of baseball caps, track suits or training shoes.
The panel is also being asked to explore whether it wants to introduce driver training and how much it might cost.
Any decisions will go out for consultation before a full report would be brought to the council's policy and resources committee.