Online tourist information hits visitor centre numbers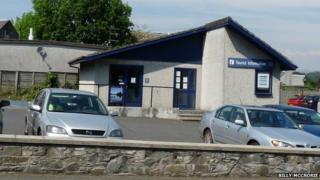 A trend towards tourists accessing information online has been cited as a reason behind plans to shut a south of Scotland visitor centre.
Dumfries and Galloway councillors are being asked to agree to close a face-to-face service in Newton Stewart.
It comes after usage figures showed a 66% drop in footfall over the past five years.
A 12-month pilot of providing visitor information at another site in the town is being proposed.
VisitScotland is currently carrying out a nationwide review of visitor information provision.
Visitor information centre footfall in Dumfries and Galloway
Centre
09/10
10/11
11/12
12/13
13/14
+/- %
Castle Douglas
25,737
23,315
17,394
15,945
15,168
-41%
Dumfries
58,612
40,118
42,984
38,208
39,574
-32%
Gretna
44,206
42,497
47,567
44,896
49,599
+13%
Kirkcudbright
44,496
57,478
45,602
46,199
40,568
-9%
Newton Stewart
6,088
4,967
2,730
2,468
2,065
-66%
Stranraer
19,506
21,175
21,062
15,961
17,125
-12%
Moffat
14,422
10,409
11,597
225,424
287,707
n/a
Gatehouse
29,978
29,334
43,675
41,341
35,316
+18%
Figures in a report to councillors present a mixed view of performance at centres across Dumfries and Galloway.
Sites in Castle Douglas, Dumfries, Kirkcudbright, Stranraer and Newton Stewart have all seen numbers fall although they have risen in Gretna.
Two "partnership" centres - run alongside other businesses in Moffat and Gatehouse of Fleet - boast rising footfall.
'Alternative uses'
Plans for some kind of information service to passengers arriving from ferries at Cairnryan are also in the pipeline.
Figures for the centre at Dashwood Square in Newton Stewart have dropped from more than 6,000 to just about 2,000 in the past five years.
The report said a rise in the use of online resources meant less demand for face-to-face provision in some locations.
A year-long trial of a service at the Wigtown Rural Enterprises Office in the town is being proposed.
The council said it would look for "alternative uses" for the building being vacated by the visitor information centre.
It said staff involved would be found other employment within VisitScotland.