Centenary of HMS Bayano disaster off the Galloway coast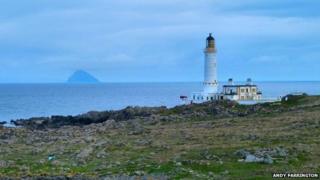 One hundred years ago today a first world war maritime disaster happened off the coast of Galloway.
A German U-boat torpedoed a Royal Navy patrol ship HMS Bayano which sank with the loss of nearly 200 British lives.
The Bayano sinking is a little known, little talked about event of the early months of World War One.
Clyde-built in 1913 by Alexander Stephen and Sons of Glasgow, the ocean liner was requisitioned and armed for the Royal Navy.
On this day a hundred years ago she was patrolling the west coast when she was torpedoed by a German submarine just off Corsewall Point, near Stranraer.
The attack took place at 05:15 when many on board were asleep. She sank within minutes.
Newspaper account
Reports vary on the total number killed but it seems to be around 195. Twenty-six men survived.
One of them, Lieutenant Commander Guy, gave a newspaper account of what happened.
He described the ship's captain, Captain Carr, standing on the bridge, cool and smiling.
He had looked down at men who made it to the lifeboats and waved goodbye shouting: "Good luck to you boys."
Around a minute later, said Guy, the Bayano was gone.