Warning over future of Carnsalloch House in Dumfries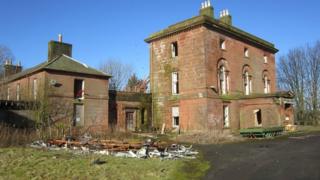 A dilapidated historic mansion in Dumfries may not survive another five years without extensive renovation, its owner has warned.
Carnsalloch House has lain empty since around 2000 and has fallen into a state of serious disrepair.
Owner Ian Foster has applied to build six homes close to the building to fund the renovation of the house.
However, planners have raised concerns that proposals do not meet a "high standard" of design.
At a meeting of Dumfries and Galloway Council's local review body, councillors asked for clarification from planning officials and Historic Scotland over the design issue.
Targeted by vandals
Mr Foster, who is an architect, welcomed their decision to call for more evidence but warned that lengthy delays could be disastrous for the Kirkton property.
He said it suffers from weather penetration but they cannot fix the roof without council permission.
It has also been targeted by vandals and last week a fire at the property destroyed an annexe built in the 1970s.
Mr Foster said: "Will Carnsalloch House survive another five years? That's the problem.
"Until we can get people on the site, first of all through construction people there refurbishing it, then living there, that's the only real way we an save Carnsalloch House."
Sales income
He added: "There's no way an owner can refurbish Carnsalloch House just on the income from the final sales of the units within Carnsalloch House.
"The planners realise that, the council realise that and I think Historic Scotland know that and support that. These are just details that need clarified but it must be clarified quickly."
The Palladian house was built in the middle of the 18th Century and there have been a number of extensions over the years.
From the late 1960s until about 2000 it was owned by the Leonard Cheshire foundation.
It is now on the Buildings at Risk Register for Scotland.