Racers expected in Tweed Valley for Mighty Deerstalker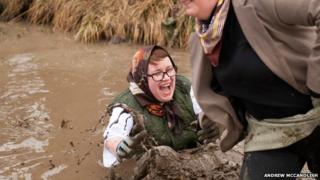 Thousands are expected to descend on the Tweed Valley this weekend to take part in what is billed as "the toughest off-road race in the UK".
They will tackle steep ascents, mud-filled trenches, water crossings and forest trails across 10km (six miles) as part of The Mighty Deerstalker.
It is the 10th anniversary of the race, which is held at Traquair House, near Innerleithen on 14 March.
A 5km "deerstalker" race is also held for people new to off-road racing.
Last year more than 3,500 men and women took part in the event, which includes natural and man-made obstacles including "The Rack", "The Scree" and "The Tunnel".
All competitors take part in the 5km race but those taking part will in the longer race will complete the second half in darkness with only a head torch to light the way.