Wickerman festival: Lulu and Squeeze join line-up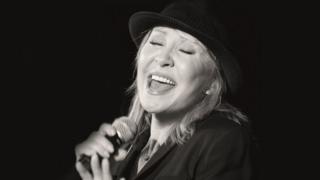 Scottish singer Lulu has joined the line-up for this year's Wickerman Festival.
The musician, who is celebrating 50 years in the industry, will perform on the main stage at the event at Dundrennan in Dumfries and Galloway.
Influential pop band Squeeze and punk performance poet John Cooper Clark have also been added to the bill.
They will join The Waterboys, Tom Odell, Example and DJ Wire at the festival on 24 and 25 July.
John Cooper Clark, known as The Bard of Salford, will headline the Scooter Tent, which will feature a range of ska and punk acts, including Steve Ignorant.
Wickerman's Grainne Braithwaite said: "We are so excited to have Squeeze, Lulu and John Cooper Clarke joining this year's line up.
"All three acts are icons in their different musical genres, so to bring them all together alongside The Waterboys and Tom Odell, will make for an unforgettable celebration of British talent, past and present."
---
You can get regular updates from across the south of Scotland on our live page.
Click here to see the page on our main news index.
---