Pioneering peat technique in Galloway examined
The environment minister has been visiting a site where a pioneering technique is being used to try to safeguard a "vital" peat bog.
Aileen McLeod was invited to Carsegowan Moss in Galloway by the Scottish Wildlife Trust.
They wanted her to see first hand the "peat bunding" approach being used.
It involves low ground-pressure excavators removing damaged surface layers with deeper peat used to build up a low embankment.
This helps to hold back and slow the flow of water from the site.
The SWT said many lowland bogs like the one between Newton Stewart and Wigtown were in urgent need of such restoration.
---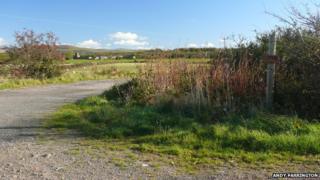 Carsegowan Moss, factfile
Carsegowan Moss is reckoned by the Scottish Wildlife Trust to be one of the best remaining bogs which once formed a large area of peatlands along the Solway.
Cranberry and bog asphodel grow within the sphagnum carpet.
Hen harriers, merlins, short-eared and barn owls may also be seen hunting.
The reserve lies to the east of the A714, between Newton Stewart and Wigtown, and was the site of a munitions factory during World War Two.
---
Ms McLeod said: "The Scottish government recognises the importance of the benefits which peatlands provide and has allocated £15m for peatland restoration.
"Peatlands are vital for providing ecosystem services such as water purification, flood prevention, helping to confront the challenges of climate change and improving biodiversity.
"The 2020 Challenge for Scotland's Biodiversity therefore includes a commitment to restore Scotland's peatlands and I am delighted to see such action taking place at the Carsegowan Moss in Dumfries and Galloway and throughout Scotland."
'Vital asset'
SWT chief executive Jonny Hughes said the work being carried out using the Peatland Action Fund was essential.
"Peatlands are vital natural capital assets that have been neglected for far too long and it's good to see Scottish government investing in restoration," he said.
"However, in order to safeguard these vital habitats for the future, much more needs to be done to turn what is currently a liability on Scotland's balance sheet into a water, carbon and wildlife asset for future generations."