Dumfries soldiers feature in touring WW1 exhibition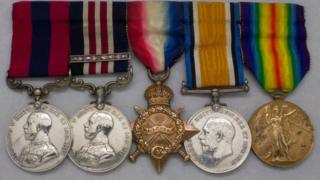 Treasured heirlooms from two Dumfries families have been added to a major touring exhibition reflecting on World War One.
A button, a badge and a spent bullet shell are among the items which tell the poignant story of one local man.
Another display tells the tale of local twins. One was killed in action; the other was decorated three times.
The Next of Kin exhibition begins its nationwide tour at Dumfries Museum on Saturday.
For the past 12 months, its home has been the National War Museum at Edinburgh Castle but to mark its move south the stories of two local war heroes have been included.
Twins Alexander and William Sanders enlisted in 1915. Three years later, Alexander was killed but William, a sergeant with the Royal Engineers, was decorated for bravery.
Their family has loaned medals, their citations and a photograph to the museum, in order to tell their ancestors' story.
William's grandson, Alexander Mackenzie, said he was "proud and sad in a way" to be named after his late great-uncle.
The 79-year-old, from Guildford, said: "I only wish that we'd have learned from World War One because there we were in '39, at it again, and I went through that one.
"They should never be forgotten. They fought for the freedom of speech, the freedom of people and a lot of men sacrificed their lives for it. They should always be remembered."
Another Dumfries-born solider, George McCall, was killed and buried in France in 1918. But his sister always kept a collection of his personal possessions - a button, a badge, a photograph.
On display in the museum, they tell the story of a young man who emigrated to Canada but returned to fight for the cause of his birthplace after war broke out.
Next of Kin also features the story of Andrew Baillie, one of about 200 soldiers killed in a rail accident at Quintinshill, near Gretna, while he was en route to the Gallipoli peninsula in Turkey.
Among the mementoes kept by his family was a telegram telling them he was "not accounted" for.
Dumfries museums officer Fiona Wilson said: "We thank all of the local people who have shared their family stories with us and loaned family heirlooms.
"Some of these will feature in this exhibition and others will be included in future displays.
"We hope that visitors to Next of Kin will be inspired by the stories they discover and help us add to our knowledge of how our local community was affected by the First World War."
The exhibition will be at Dumfries Museum until Sunday, 20 June.