Huge rise in discarded needles in Dumfries and Galloway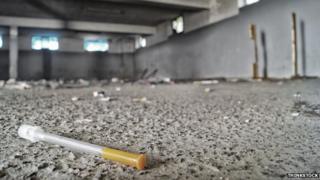 There has been a large increase in the number of drug users' needles found abandoned in Dumfries and Galloway, according to a new report.
A total of 656 syringes were found discarded in the region in 2014/15 - 40% more than in the previous year.
The statistics emerged in a community safety report to Dumfries and Galloway Council.
It also revealed that complaints about discarded needles increased by almost a third over the same period.
Jim Parker, lead officer with the region's alcohol and drug partnership, said staff are investigating the statistics.
"We are trying to get to the bottom of whether there are more discarded needles around or if we are just finding more."
Safe bins
The partnership works directly with drug users and they are reminded to dispose of their syringes in the safest way possible, he said.
He added: "We have pin pointed some hot spots in and around Dumfries particularly, that's areas that large numbers of discarded needles have been found.
"So we have got safe bins where needles can be discarded by injectors safely. Members of the public, children etc, can't get their hands in."
Mr Parker said users are offered a "safe disposal unit", which can be returned and changed at a pharmacist.
"We work with staff in other council departments who pick up needles safely when they are identified," he added.
"So we have got a whole range of initiatives for collecting and maximising the needles that we get back."